In celebration of International Women's Day, Musket Transport is proud to announce the names of two recipients receiving the Annual Musket-Funded Female AZ Scholarship to the Commercial Heavy Equipment Training (CHET) school.
The scholarship specifically created for females (as an under served community in transportation and logistics) backs Musket's mission to recruit more women behind the wheel. This scholarship complements existing efforts to remove gender stereotypes and to recruit a balanced workforce.*
This year's winners are Gissela M and Shira K.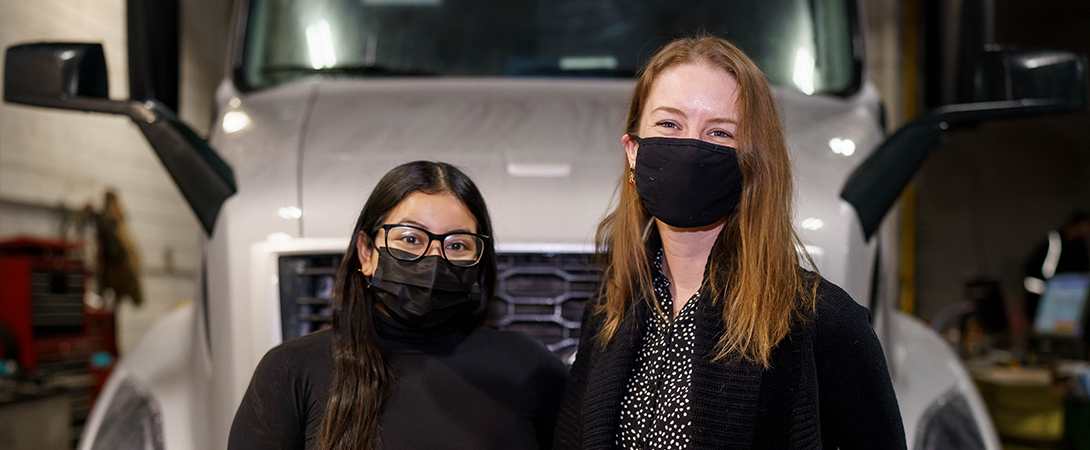 "We are very excited to announce two scholarship winners this year on International Women's Day," stated Sophia Sniegowski Begidzhanov, Corporate Communications Officer for Musket Transport. "Since we established this program in 2021, we have noted an increase in applicants and had four finalists. This year Musket is in a position to fund training for two females at CHET, Gissela and Shira, congratulations to you both! We look forward to supporting their journeys in commercial driving."
Both recipients of the scholarship will receive full funding to complete the AZ Training Program at CHET.
Gissela is a university graduate who long pursued a career as an armed security driver. Her experience in that particular field made her proud to be an example to other girls and women when they saw her driving or loading and unloading a truck. This gave her a passion for driving a larger truck where she could travel to other provinces and into the U.S. "I hope to be part of the small percentage of women at CHET/Musket Transport changing the face of what a truck driver looks like," says Gissela, "and who continue to succeed in male dominated industries."
Shira comes from a non-profit office-based background and has been searching for a career change. Determined to never work in an office again, she felt drawn to the trucking world as someone who naturally enjoys driving and wants to see more of our beautiful country through her work. "I appreciate that each day of driving might present new challenges and adventures," says Shira. "I love that idea that at the end of the week, there will be objective evidence of what I've accomplished."
Musket has long stressed the importance of engaging women in this industry and breaking down the barriers of entry. Most people are unaware that truck driving is not considered a skilled trade by the federal government. Unfortunately, this prevents women from pursuing funding options since the government created bursaries for women and youth but only for skilled trades.
The costs of training tend to be one of the biggest barriers to entry as there is no apprenticeship program and the costs are comparatively high to other trades programs (due to the cost of equipment and space required for truck driving). CHET continually goes above and beyond to make sure there are funding options available for those wishing to pursue training and the launch of the female scholarship by Musket was specifically designed to help close that gap for women.
The panel of judges for the scholarship included the CHET Operations Manager, Phil Fletcher; Corporate Communications Officer for Musket, Sophia Sniegowski Begidzhanov; the owner of iMVR, the company that created the VR equipment and program CHET uses to train students on, Vicki deVos; and the CEO of Women's Trucking Federation of Canada, Shelley Walker.
"It is well-known that we need more female representation in the industry," says Begidzhanov. "Women make up half of the labour force in Canada and only 3% in transportation and logistics. It is a privilege to be in a position to offer an annual scholarship to remove the financial barrier of entry for women to get their commercial license. Since truck driving is still not considered to be a skilled trade by the federal government, we are precluded from multiple funding programs set up for women and youth to enter into the trades. This is the reason that Musket has made a personal commitment to encourage more women to join our industry."
---
*Learn what Musket is doing to remove gender stereotypes here.
Published on March 10, 2022